Textiles and Digital Printing – A Brilliant Combination
Over the past months, Fashion Week has been featured in cities across the globe, including New York, London, Paris, Milan, and more. One of the biggest trends to hit the scene is digital textile printing. This printing technology is transforming the fashion and textile industries, enabling designers to customize fabrics by creating bold-striking colors.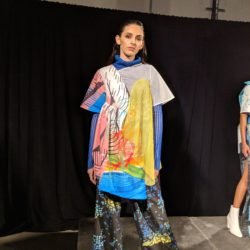 Digital textile printing was showcased at the Epson Fashion Week Event in NYC. Epson, the creators of the show and digital printing technology, highlighted various garments created by student designers from around the world. The theme of the event was "Cosmopolitan Couture with Impossible Colors—How Does Your Culture Dress-up?" Students were asked to leverage Epson's textile printing solutions in fashion, with each designer using dye-sublimation and direct-to-fabric printing.
The results were astounding as brilliant colors were blended to design striking creations. Digital printing enables designers to add shading that contours the body, and tactile effects that give traditional 2D printed items a third dimension. But, fashion isn't the only industry benefitting from this technology.
Soft signage, home textiles, packaging and automotive companies have also incorporated digital textile printing into their product offerings. Besides the versatility of printing on different substrates, digital printing saves on resources such as water, energy and chemicals. As companies continue to look for ways to reduce waste and become more environmentally responsible, this technology aids in achieving this goal.
As a relatively new advancement within our industry, digital printing provides product engineers the ability to enhance design and print with minimal turnaround time while still yielding high-quality results. As speed-to-market continues to dominate the industry, achieving the desired level of efficiency becomes an ever-more critical part of the design process. Textile mills are introducing new constructions and yarns and with digital printing, the colors and shapes are defined unlike others before. With advanced textiles and digital printing technologies, fashion and commercial fabrics can reach new heights.
Apex Mills supplies a multitude of industries with textiles customized for quality digital printing. As a company in business for 75 years, we coordinate with our partners to develop forward-thinking solutions to meet the needs of our customers.
To learn more about the textile industry and the industries we serve, we invite you to read our blog, follow us on Twitter, and connect with us on LinkedIn. To find out how our textiles can enhance your next digital textile printing project, we invite you to contact us today.