Stay Cool in the Heat with Advanced Moisture Management
As August Heats Up, Stay Cool with Advanced Moisture Management
The Gatorade Sports Science Institute has found that in conditions of 85 degrees and 40% humidity, the average runner will lose 2 to 4 pounds of sweat an hour. Not a runner, then how about this; according to MedlinePlus, the average person produces approximately one quart of sweat per day. That's great for the body, but how much moisture can your clothing absorb?
While shopping for performance apparel, you might notice many companies promoting wicking properties and quick-drying features, but what exactly does it mean, how does it work, and is it worth paying extra for the added benefit? Let's break it down.
Moisture management is the ability of a garment to transport moisture away from the skin to the outer surface of the garment and then evaporate. Moving moisture away from the body helps to regulate temperature and increase comfort. In hot weather, trapped moisture may heat up and lead to fatigue while in cold conditions, the moisture will drop in temperature causing chilling and potential hypothermia.
There are three levels of moisture management:
1. Moisture absorbency
2. Moisture wicking
3. Moisture repellency
Moisture Absorbency
Absorbency is the ability of a fabric to take in moisture. It's an important property in textiles because it enables the moisture to be quickly collected in a concentrated area. But, fabrics that absorb well are prone to staining and retaining odor over time.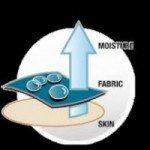 Moisture Wicking
Wicking pulls moisture away from the body to the exterior surface of the fabric where it can evaporate more easily. Think of it as a transportation system, moving liquid, via tiny tubes, up and away from your skin and releasing to the outer layers of your clothing or into the air. Wicking helps to keep you dry, reduces chafing and inhibits the susceptibility to microbial growth.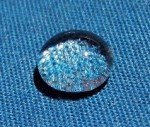 Moisture Repellency
If a textile is moisture repellent, it means that it is hydrophobic and pushes away moisture on contact. Water repellent fabrics are coated with a film on a molecular scale that gives them the ability to withstand above-average exposure to moisture without soaking through. Moisture beads up and rolls off the fabric, rather than being absorbed into the fibers.
Absorption is inherent in certain types of material such as cotton, but cotton lacks the strength and durability found in synthetic fibers. Through nanotechnology, microscopic changes are made to the fibers to develop the desired textile characteristics in synthetic polymers. Apex Mills works with several nanotechnology companies to identify the best treatments for our textiles so that they meet the requirements of the application in which they are used. Our DryRUNTM family of high performance fabrics utilize knitting constructions and finishes to optimize the benefits of moisture management while providing maximum comfort.
DryRUN, our single process, multi-directional moisture management treatment absorbs and spreads moisture over a larger surface enabling liquids to dry more quickly. Used in various applications including clothing, cleaning cloths, packaging supplies and filters, when moisture absorption is necessary, DryRUNTM delivers.
DryRUN+ is a dual process, one-way moisture transport solution that is treated on both sides of the fabric. First, it wicks moisture away from the skin side up to the outer layer, and then spreads the moisture over a larger surface for fast drying. DryRUN+ keeps the wearer comfortable and accelerates quick drying.
DryRUNX offers extreme moisture repellency when you need moisture to roll-off a fabric leaving no wetness behind. By changing the surface of the fabric at the molecular level, moisture is unable to penetrate the fabric and rolls off, keeping both the fabric and wearer dry and comfortable.
DryRUNa.m. combines absorption and wicking with an anti-microbial treatment. Not only does it catch moisture, move it away from the skin and release it for quick evaporation, it also inhibits the growth of odor-causing bacteria on fabrics. Used in performance fabrics for your morning run, by servicemen in the military, and for orthopedic braces and devices, the applications are limitless.
Learn More
Since our founding in 1943, Apex Mills has been perfecting and innovating various types of industrial fabrics, including solid knits, mesh, and 3D spacers. Committed to solving our customers' problems through truly innovative, reliable solutions, we work with hundreds of companies across industries to design and manufacture textiles that meet their specific needs.
Follow us on Twitter, LinkedIn and read our blog to stay up-to-date on industry news and innovations. For questions about a certain application you're developing and need advice, contact us today to speak with an Apex Mills textile expert.